Call Glen Windows and Doors for glass with class!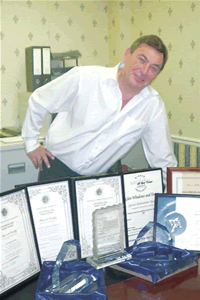 WHILE Watford FC are tasting success in their continuing push for promotion to the Premiership Division, another committed team is drawing praise, just a stone's throw from the Hornets' ground.
Glen Windows and Doors is experiencing the sort of success only dreamed of by some companies, with a hoard of satisfied customers repeatedly returning to the company and a groaning trophy cabinet to boot. The company's charismatic owner, Glen Haysman, started out as a salesman in the industry and has over 35 years' experience of the ins and outs of the sector. When he founded Glen Windows and Doors Ltd, he had just two employees, himself and a fitter. Now, many years down the line, with a much increased workforce and producing many of their own products, Glen Windows and Doors Ltd supplies locally, and nationally to domestic and trade customers
The company has built an enviable reputation for first-class customer service and is one of the most well-respected in the region. This has been recognised by national industry bodies, who have conferred a number of awards on the company. Glen Windows and Doors Ltd has received three Window Industries awards – including the National Installation of the Year, best after-sales service (Special Achievement Award) and runnerup in the Local Manufacturer of the Year category. The company also received the prestigious Glassex Customer Care Initiative of the Year Award, the judges describing the firm as being "totally and utterly dedicated to customer service". The award was the pinnacle of the firm's rise to the top. "If I could have made a wish to win any award, it would have been this one," Glen explains. "I am absolutely delighted; many of our customers were ringing to congratulate us."
Independent watchdog, the Independent Warranty Association also gave Glen Windows and Doors Ltd a 100 per cent customer satisfaction rating and granted lifetime membership to its scheme – an accolade normally awarded only on an annual basis. "The most important person is the customer – without the customer there is nothing," Glen explains. The company's after-sales services include a six-month checkup on customer satisfaction and immediate response if anything is wrong. Fittings can be carried out at weekends, so customers do not need to miss work and staff monitor the phones on bank holidays and at Christmas in case customers are locked out or can't shut a window. About a fifth of the firm's work comes from replacing windows that other window companies installed 15-20 years ago. As locks and colour fastness have improved, people have turned to Glen Windows and Doors again, because the firm is one they feel can be relied on to carry out work to the highest professional standards. As Glen himself says: "Our success now is paying dividends from the service of years ago." It is all part of Glen's commitment to providing a high-quality, durable product and long-term customer care.
The firm's unparalleled success in this field in the last few years has led Glen to found an offshoot company to tackle demand. Instant Double Glazing Repairs deals with double glazing repairs and maintenance, meaning customers do not need to completely replace their existing windows. This new option just underlines Glen's commitment to broadening customer choice and, ultimately, giving them the best option possible.
This considerate position has brought in a flood of glowing testimonials from satisfied customers, including John and Sylvia from Rickmansworth, who wrote: "We want to thank you for the excellent quality of work and the exceptionally kind service we have received from you and your whole team. "Changing all our metal windows, frames and secondary glazing to your new double glazed PVC windows, replacing all the wooden windowsills, painting them and taking all the old ones away – fantastic! "We are amazed by the speed and the precision of your highly qualified people, who did the whole transformation in such a short time. They left the house in perfect order; we could not tell that such a major job had been done. "Already we have noticed the incredible soundproofing the new units have provided and the elimination of the condensation and draughts. This winter promises to be much more comfortable, not to mention the reduction in maintenance. "We feel the house has been improved immensely and we would highly recommend Glen Windows and Doors to anyone who was considering having new windows in their house. "Thank you and your staff for all your help."
With an enviable set-up, a caring ethos and glowing testimonials, it is clear that Glen Windows and Doors Ltd are still in the premier league.
Windows Fit for a Princess!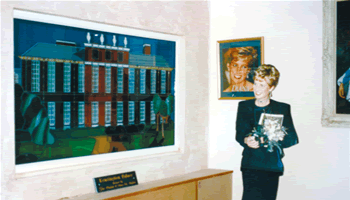 A MEASURE of the high quality of craftmanship Glen Windows and Doors provide can be found in the number of hand-made stained glass windows the company supplies. The firm employs established artists to create each individual design to each customer's personal requirements and they take great care to ensure the accuracy of shadowing and colour within the artwork. Glen's most impressive design to date was a commemorative window of Diana, Princess of Wales, made for Royal watcher Margaret Tyler Mrs Tyler, who has dedicated her home in North Harrow to the Royal Family, had heard about Glen Windows and Doors' excellent reputation and contacted Glen, who made a personal visit to her home. Mrs Tyler commissioned his team to create a six foot by three foot image of Kensington Palace, Diana's London home. More than 200 hours went into the window, which incorporated the latest in film finishes. Mrs Tyler was so impressed by the finished article, and the considerate and attentive customer service she received throughout the project, she commissioned a double patio door featuring a fulllength portrait of the Princess. The ambitious project won a glass industry Special Achievement Award and has been marvelled at across the world.